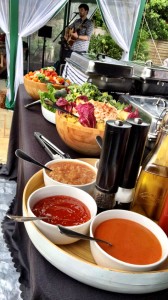 Here at Hog Roast Loughborough, we're all about excellence. We use fresh, local, high-quality ingredients to create culinary masterpieces that you and your guests will love time and again, whether that's going back for seconds or booking us again for another party or event. Our professional, dedicated team members, from our admin and waiting staff to our chefs, will welcome you and work with you to help make a success of your day, going the extra mile every time to ensure that it goes without a hitch. We take pride in our excellent service, and are often commended by our customers on this and, of course, on our delicious dishes. While we can cook a mean hog roast or spit-roasted animal or bird, we can actually provide so much more too, including vegetables, potatoes, salads and additional or alternative mains. Whatever your needs when planning an event, Hog Roast Loughborough is a wise choice.
YOUR PARTY, YOUR FOOD, YOUR CHOICE
When it comes to our customers, they are always right, and that starts right at the beginning, when you are choosing what food for us to serve you and your guests. We have several menus for you to choose from but we encourage our customers to create their own menu or simply mix and match items from ours, to make the menu that you want, rather than us telling you what to have. After all, it's your event, so it really should be your choice of food. If that means we cook you something other than a hog or spit roast, that's more than okay, as we have all sorts to choose from – from barbecued meat to whole roasted salmon, our popular Southern Slow Roast Menu with several meats and accompanying dishes or veggie kebabs for vegetarian guests. We can also ensure other guests with dietary needs are well-fed too, as long as we know in advance. We want all of our customers and guests to love our food, no matter their diet.
THE BEST HOG ROASTS IN LOUGHBOROUGH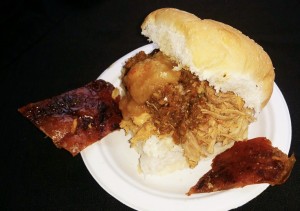 While Hog Roast Loughborough loves to offer plenty of variety, you need to try one of our amazing hog roasts to believe it. With succulent slices of meat, crispy pieces of crackling, and our own homemade duo of apple sauce and stuffing, one of our hog roasts will always delight and satisfy and you'll be back for more!